6 Oct 2021
Newcastle Thunder announce new season launch event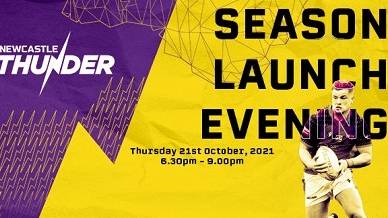 Newcastle Thunder fans are invited to a free launch event for the 2022 season on October 21, 2021 at Kingston Park where attendees will become the first to find out the identity of four new signings.
In addition to announcing the club's new signings, Newcastle Thunder will also launch its 2022 season ticket membership packages, which will be available for fans to purchase for the first time at the event. Season ticket members who purchase on the evening will also be entered into an exclusive prize draw for the chance to win a pair of tickets to the Rugby World League Cup opening in October 2022.
Starting at 6:30pm fans will be able to meet and mingle with the new players in attendance, along with director of rugby Denis Betts, head coach Eamon O'Carroll and chairman Mick Hogan. Throughout the evening there will be Q&As with the new signings, as well as a panel interview with Denis and Eamon and several retail offers.
General manager Jordan Robinson said: "We're delighted to invite our supporters and the wider rugby league community along to our season launch night.
"After a successful first season back in the Betfred Championship we are looking to build on what was achieved, including how we engage with our fans beyond match days.
"This event will be the first in a regular calendar of events that will allow players, staff and supporters to really get to know each other.
"The camaraderie between club and fans is what makes this club special, and we are really keen to foster those links in 2022."
Free to attend, and with food and drink available to purchase on the night, the event will be the perfect opportunity to find out more details of the next exciting steps on Thunder's journey, directly from the people making it happen.
Places are limited and early booking is recommended to ensure that you will be there to see the four new faces set to don the purple and gold of Thunder before anyone else.
Places for Thunder's 2022 launch evening can be booked by clicking here.