7 Jun 2021
NEWCASTLE THUNDER MATCH TICKETS: E-TICKETING GUIDE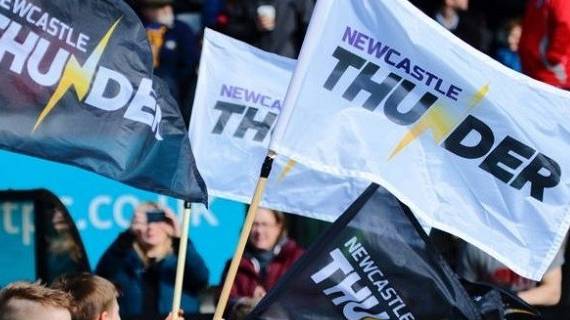 Newcastle Thunder are once again able to admit spectators to Kingston Park for the Betfred Championship fixture against Oldham RLFC on Sunday June 20th (KO 3pm)
Up to 1,200 fans will be able to attend the game, with all supporters required to purchase their tickets in advance of the game to allow the club to comply with track and trace requirements.
Thunder are conducting all sales via the Newcastle Rugby online box office for matches at present, allowing supporters to provide details for track and trace purposes and assisting the club in maintaining a covid-secure match-day.
To help supporters purchase their tickets via a process that has additional stages to what they have encountered before, the following step-by-step guides provide all the information you need to follow in order to complete your purchases successfully.
BEFORE PURCHASING YOUR TICKETS
With all tickets needing to be assigned to the person that will use them in order to comply with track and trace requirements of the UK Government, you will need to set up profiles for each person that will be attending the match and add them to your network.
CREATING OR ACTIVATING ACCOUNTS
If the supporter has previously purchased tickets via the Kingston Park Stadium box office, an e-ticketing account simply needs to be activated.
To activate your Thunder e-ticketing account if you have never used your Thunder e-ticketing account before
1) Click the Sign In link in the top right corner
2) Click on "Have an existing account? Activate it now" DO NOT click "create new account"
3) Enter your client reference number (found on your ticket and/or confirmation e-mails you have had from the club in the past)
4) Enter your surname.
5) Click "Find my account"
6) Update your details (fields marked with an * are mandatory)
7) Opt into updates if you would like
8) Complete registration
9) You do not receive a confirmation e-mail so PLEASE make a note of your e-mail address and password.
To activate your Thunder e-ticketing account if you do not have your client reference number, please e-mail Tickets2@newcastle-falcons.co.uk with your Full name, postcode and Stand and we will respond with your number.
If the supporter is a first-time attendee, or has never purchased tickets before themselves, please visit the Newcastle Rugby online box office, click register and complete the required details to create your e-ticketing account.
LINKING ACCOUNTS
To link your account with all members of your group you will need access to your active e-ticketing account to complete the process for ALL members of your party.
• Log in to your Thunder e-ticketing account.
• From the "My Account" tab click "Network" under the Account Management heading.
• From here, click add members.
• From here, input the surname and client reference number of the account you wish to manage and click search
• When the member is found, click add member
• If you do not have / do not know the client reference number of your party you can contact Tickets2@newcastle-falcons.co.uk and we will provide you with their number.
PURCHASING YOUR TICKETS
Using the interactive seating map, select the seat / standing tickets you wish to purchase and choose the price needed for each ticket.
Supporters can purchase a maximum of six tickets (assigned to individual users) these can be purchased in single or multiple pods
IMPORTANT NOTE: Tickets have been grouped together into "pods" to take into account social distancing requirements, you must purchase all of the seat / terrace tickets within a pod to proceed.
Once all tickets in a pod are selected, the buy tickets option will appear, click to proceed.
On the following screen, scroll to and click the "proceed to checkout screen" at this point you will be required to sign in to your e-tickets account.
You will automatically be allocated the first ticket in the basket to your membership number. If you have multiple tickets in your basket, click the word "assign" under each ticket and allocate this to the member of your network who will use the ticket.
Once all tickets are allocated to an individual supporter, click proceed to checkout.
Select your chosen payment method, you can pay for your tickets either with a credit / debit card or, if you have credit on your account, you can also use some / all of this to make your purchase.
Click Review order
Accept T & Cs by clicking check box at the bottom of your order
Click complete purchase
You will receive your tickets via email